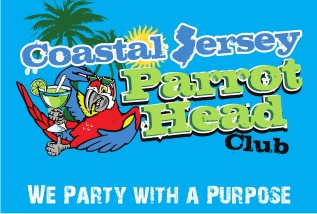 Coastal Jersey Parrot Head Club Inc.
Calling all phun loving Parrot Heads!

So, when the journey gets long
Just know you are loved
There is light up above
And the joy is always enough- Bubbles Up - Jimmy Buffet

Please see our FaceBook page for up to the minute information!
Like us on Facebook & Instagram!



Copyright 2012- 2023 - Coastal Jersey Parrot Head Club Inc (a 501c3 non profit)- All rights reserved.
The Coastal Jersey Parrot Head Club,Inc. is a chartered member of

Parrot Heads in Paradise, Inc.

Please direct any questions to:


boardCJPHC@groups.io
DISCLAIMER: We are recognized by but in no way attached to Jimmy Buffett and his business interests in Key West, New Orleans, Charleston, and Orlando.

The terms Jimmy Buffett, Margaritaville, Parrot Head(s), Parrothead(s), Parrot Head Club, Parrothead Club and PHC are registered trademarks of Margaritaville Inc.

We are not associated with HK Management, MCA Records, Island Records, or Margaritaville Records. We would like to stress that Mr. Buffett's name, his song titles, lyrics, names of businesses owned by Mr. Buffett, and the term "Parrot Head" are all registered trademarks and should not be used for the pursuit of profit. Clubs are allowed to use the term "Parrot Head" on t-shirts, etc., but NOT Jimmy Buffett's name.